Andrew Packer was on a comedy tour in the Philippines on a small island called Siargao when worldwide pandemic travel restrictions hit in March 2020.
He was stuck there for seven months.
During his time in Siargao, Packer worked with the locals to create comedy sets and have people perform stand-up.
"When things started to relax after a few months, I started organizing comedy shows there," Packer, who is coming up on his seventh year as a comedian, said. "I started getting the locals who were interested in doing stand-up, wanting to be like Jo Koy or different Filipino comedians that they love. A lot of people participated, and I would host and headline those shows."
The comedy industry was hit hard when the pandemic arrived, forcing live venues to close leaving many comedians either out of a job or forced to adapt, but a live comedy event is being held on May. 13 at the brunswickbierworks in East York.
Comedians such as Andrew Packer, Jordan Foisy, Hannah Lawerence and more will be performing.
Using social media to your advantage
Packer eventually returned to Toronto, right before the second lockdown on Jan. 12, 2021. He reflected on his time in Siargao and realized how one should approach their comedy career when a live show won't work.
"It's been an eye-opening experience in the sense that you can't just rely on the live component of comedy to fully sustain your career," Packer said. "If you're funny, then find multiple avenues to express your humour through."
Packer uses Instagram, TikTok and his YouTube channel where he posted past comedy events, his time in Siargao and, more recently, his YouTube shorts. He stressed the importance of understanding the digital landscape as a comedian and using it to get your name out there.
Packer garnered a large following on his social media, especially his TikTok account, which has 500,000 followers who have been awaiting news for new jokes or new shows to attend.
Losing the live audience and performing through a screen
With the second lockdown in January 2021, comedy shows were cancelled, done over Zoom or performed live with a very small crowd.
"As a stand-up comedian, you have ideas for jokes, and that very night you go out and start trying it out on stage, you will get an immediate response," Parker said. "The instant gratification you get with a live audience responding and understanding your jokes feels like a drug, but it's been ripped out.
"Without a response you are left with doubt, self-hatred, wondering if your joke landed or not. It's really rough," he said.
Jordan Foisy, a fellow comedian, had similar experiences.
"The thing I hated most about Zoom shows, outside of the feeling that you were talking into the abyss, and a tip into madness was around the corner, was how unorganized they could be," Foisy said.
"They always seemed so chaotic, it would be five minutes until 'showtime,' and I would be scrambling through old emails looking for the proper link, while another comic would be moving into their bathroom to see if their wifi worked better there. Nightmare experience, would not recommend."
Technical problems, no responses and/or constant troubleshooting can ruin the tone and pacing of the event altogether, but comedian Michael Makarov found success by performing comedy through Zoom.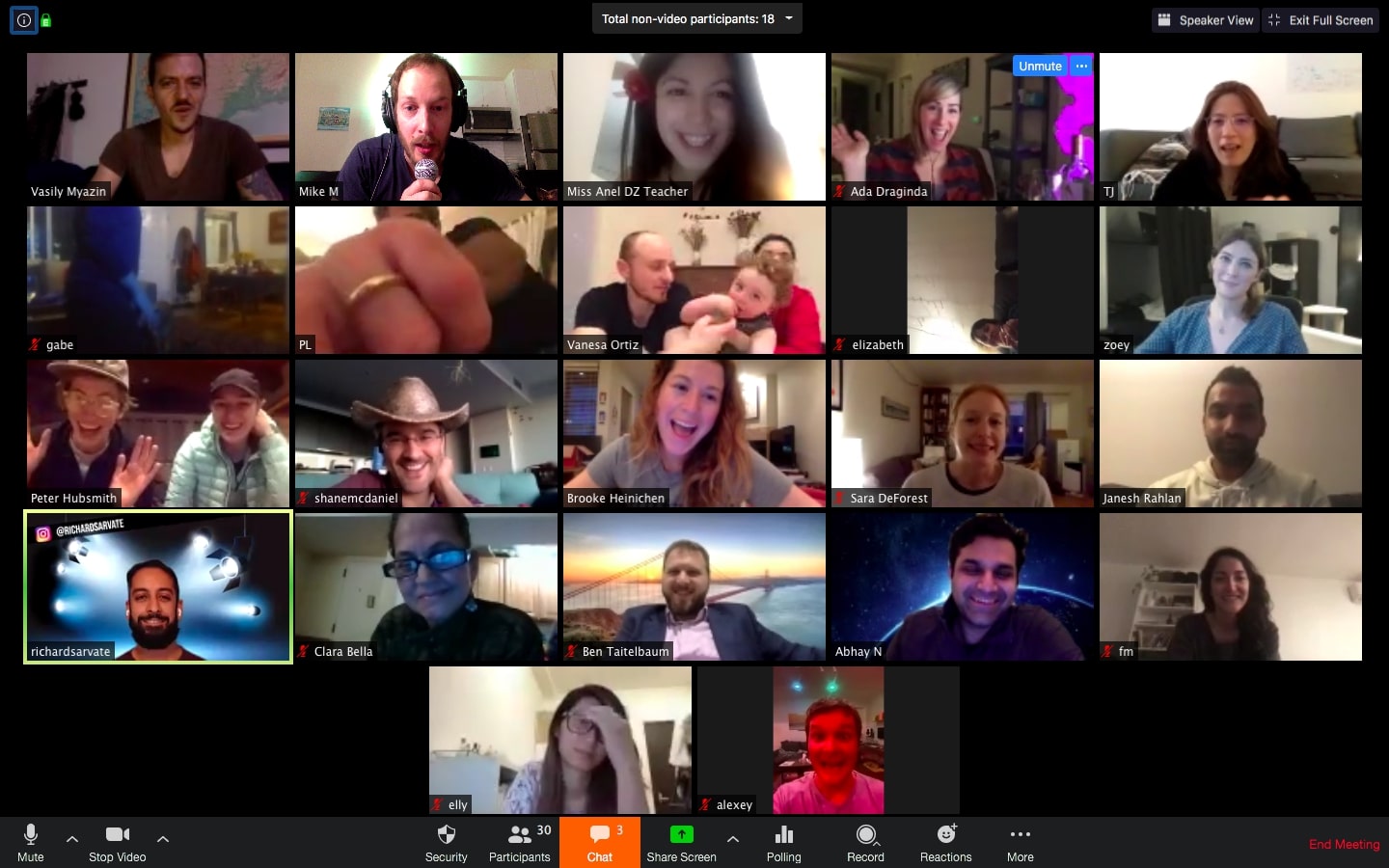 Aspiring comedians who want to use Zoom or other video-call services as a platform can check out Markovcomedy's article on how to maximize the effectiveness of the video call and make sure that the comedy event runs smoothly.
How to start a comedy career
On top of having a social media presence, Packer urges those starting out on their comedy career to write as much as they can. Write about your life, things happening around you, or just simply write about anything.
"I wrote a bunch of different ideas, and you may not get a chance to test them out to see if it's funny but through writing, you find out what you like writing about and you notice different topics that pop up that you enjoy," Packer said. "There's an endless amount of things you can do (to get started), you just need to pick one and begin the process."
The big reset
Packer said the comedy industry, during the pandemic, is undergoing a big reset that is allowing smaller comedians like him opportunities to reach greater heights, as the bigger comedians have a tough time dealing with the pandemic with venues and shows closing.
Comedian Hannah Lawerence also says now is the time to begin your career in comedy.
"Now is the time to start! Audiences are super eager to support comedy right now and there are so many new venues and shows popping up across the city (Toronto)," Lawerence said.
"It's been a rough couple of years and people need to laugh."
For more information about the Funny York comedy event, visit eventbrite page.